What we are doing:
We are creating a Custom-Built Jaguar D-Type and attempting a 200MPH+ land speed record record at the Bonneville Salt Flats this summer. The car will feature our innovative XYO Mechanical Balancing Technology, which we believe will make it more powerful and energy efficient. Our hope is to advance the current sub-170MPH current record and we will run under the Modified Sports, Class H engine, FMS (unblown fuel) or GMS (unblown gas) category.

Driver Wanted!
XYO Racing is offering a lucky few candidates a chance to be the driver of this iconic car. Two of the available spots are for drivers looking to set their own World Land Speed Record. The team can be contacted directly for details on how to apply to be a driver for the upcoming event in Bonneville.
For more information, contact:
Carl Dilley +1-727-459-7378 carl@xyoracing.com
Innovation: Keys to Success

In the spirit of innovation, we chose the Jaguar D-Type as an ideal platform to optimize the XYO Technology for the automotive industry. The vision is not just to set a world land speed record, but to prove the benefits of the XYO Technology for automotive applications.
Over a billion cars are on the roads today, each one containing multiple rotating parts and components. Imbalance and vibration lead to inefficiencies and vehicles generate significant emissions that have a measurable impact on the environment. XYO could help make these vehicles much more energy efficient while enhancing performance.
Our secret weapon is the XYO Mechanical Balancing Technology.

Unlike conventional balancing methods, XYO can automatically and continuously balances rotating equipment to reduce vibration, ultimately making them more ENERGY EFFICIENT.
We want to build the XYO Technology right into the car to help it reach its 200MPH goal. Specificallyinside the car's DRIVESHAFT.
XYO can improve balancing and allow much more efficient power transmission to the wheels. Lab testing indicates that by improving balance and reducing vibration in the driveshaft, we can significantly increase the performance of the car and help it reach its 200 MPH target.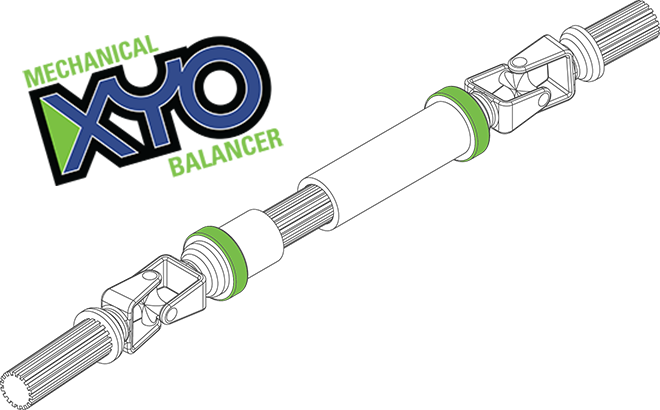 This project is a collaboration between:
Perpetual Industries Inc.:

An emerging growth company focusing on research, development and industrial design of new and innovative energy efficient products. At its core is the automatic, mechanical balancing technology called XYO, used for balancing rotating parts in machines so that they produce less vibration and operate more efficiently. Perpetual sublicenses XYO to third parties and directly develops and manufactures products containing XYO. XYO Racing is the automotive racing arm of Perpetual Industries.

Hurricane Motorsports:

A full service motorsports shop that follows a clear objective of providing racing teams the best American made products when "Nothing but the Best" will do. At the helm of Hurricane Motorsports is the revered, lifelong speed addict and 3 time world land speed record holder, Carl Dilley.

Vibranautics Inc.:

An experienced engineering firm that provides a full range of Research & Development, Testing, Design and Engineering services. They have an experienced engineering team that has in-depth knowledge in vibration testing, 3D modeling, and Finite Element Analysis (FEA).

---